In recent years, the Prefilled glass syringe becomes a new type of drug packaging material. Drug storage and General injection are its two main functions.
The syringe is crafted from medical grade, heat-resistant Borosilicate glass and features an air-tight screw head to keep the syringe contents fresh.
Now let's talk about the origin of the glass syringe and its connection with the increasingly popular marijuana products.
The History of prefilled Glass syringes
The world's first prefilled syringe was born in BD Company of The United States in 1984. Since then, it has been gradually familiar with and accepted by the United States and European markets.
The prefilled syringe is an excellent packaging of high-value products such as vaccines, biological products, biochemical products, antithrombotic drugs, beauty products. And it can also be used for surgical irrigation in ophthalmology, otology, orthopedics, gynecology, etc.
In 2018, the global market for prefilled syringes reached up to $4.9 billion, the fastest-growing of all forms of packaging containers.
The Classification and Composition of Prefilling Glass Syringes
Prefilled glass syringes consist of prefilled glass syringes and prefilled plastic syringes.
There are two main categories, the glass syringe with injection needles and without. The specifications of glass syringes are 0.5ml / 20ml, and the specifications of plastic syringes are 5ml-50ml.
Generally, the prefilled syringe is an assembled product with a tube sleeve, a piston, a push rod, a cone head, and a protective cap. However, the prefilled syringe with needle is embedded, composed of a needle tube, needle cap, piston, and pushrod. And the one without a needle syringe has two head types, Luer slip, and screw head.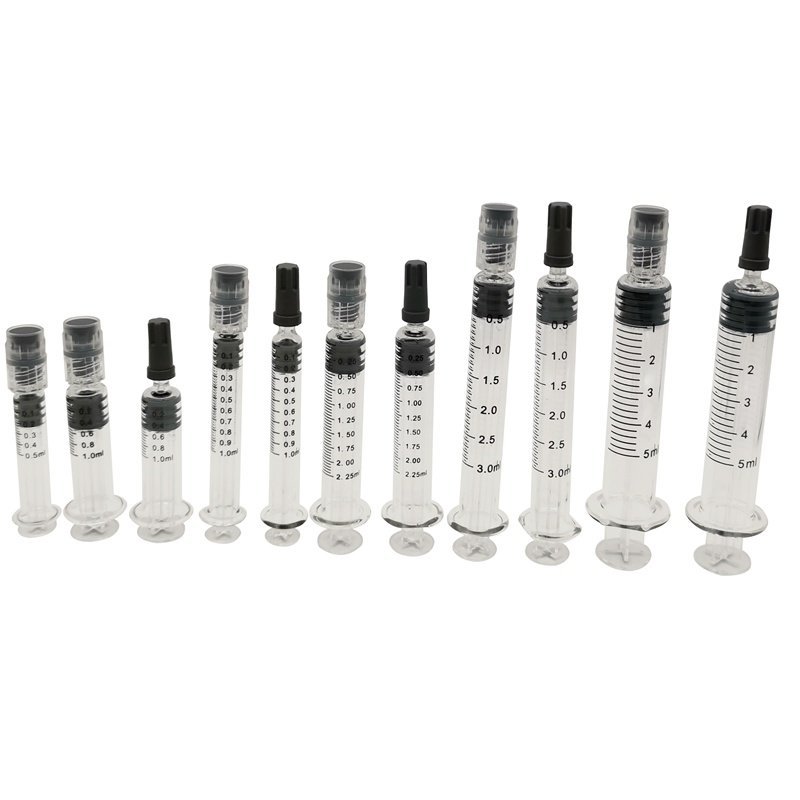 The Advantages of a Prefilling Glass Syringe
The prefilling syringe simplifies the transfer process of drugs from packaging to the syringe and effectively reduces the waste caused by adsorption.
It also avoids drug cross-contamination and secondary pollution. Besides, prefilling syringes adopt the way of quantitative injection, which is more accurate than manual infusion by medical staff.
The Benefits of using Glass Syringe Packaging for Hemp Products
In the last several years, more and more hemp oil products use prefilled glass syringes due to its excellent usage characteristics. According to an investigation, there are several causes as below:
First of all, the glass syringe is crafted from high quality heat-resistant reusable borosilicate glass. It makes the glass syringe more resistant to thermal shock, very durable, and not easily broken compare to any other ordinary glass. You can safely use this to dispense oil into a nail or banger.
Secondly, the Luer Lock or luck slip head style can make leak-free and good sealing to ensures that air won't get in and oxidize the oil/liquid over time. Its feature structure is suitable for cartridge injections, Hemp & CBD Oils, E Juices, Liquids, Glue, Veterinary, Oral, Lab Syringes, solvent ink, water-based ink refill, and distillates, etc. The silicone-tipped push rod ensures every last drop of oil is dispensed.
Also, It is easy to clean. You can easily disassemble the glass syringe into three separate pieces, so the application is effortless and controllable, reducing mess and waste.
As usual, the syringe comes with a Short Blunt Tip Needle for easy and mess-free filling or dispensing concentrate. All in all, It is an excellent option for easy packaging for hemp oils extract.
What's Hemp, CBD, and THC?
Hemp—also known as industrial hemp—is a tall, fast-growing cannabis plant that resembles bamboo. Hemp's stalks and seeds can be used to make a variety of products. Hemp has naturally low levels of THC (less than 0.3%), so using hemp-derived CBD products does not provide the high commonly associated with marijuana products.
Hemp CBD is extracted from hemp—also called industrial hemp—which refers to the non-intoxicating varieties of cannabis. Hemp-derived CBD products contain less than 0.3% THC, so they do not produce the high typically associated with marijuana. Hemp-based CBD products are frequently used for several wellness issues, including sleep, relaxation, mood, skincare, and focus.
Both CBD and THC are cannabinoids found in cannabis. THC (tetrahydrocannabinol) is the chemical compound in cannabis known for producing a euphoric high feeling. At the same time, CBD (cannabidiol) is a non-intoxicating compound more commonly associated with clear-headed, functional effects.