You can immediately think of many products when it comes to amber or brown glass jars. Such as medicine vials, essential oil bottles and food containers. Amber syringes are not common seen as other amber products on the market.
Amber prefilled syringes are made with medical amber glass tubing to protect the contents from damaging UV lights. The amber glass is designed to filter out these light wavelengths. And prevent any potential degradation of the amber syringe's drug solute or vial wall.
Unlike the other amber containers made of calcium soda glass, the amber syringe is made with Type I borosilicate glass tubing. Whatever medicines, these small mighty tools lower stress levels for medical professionals.
What's the benefits of amber prefilled syringe?
Amber prefillable syringes are a unique combination of amber syringes and prefillable syringes. They provide many benefits to healthcare professionals as well as patients. The amber color protects the contained medication from degrading due to light exposure. As such, it is becoming increasingly popular in the healthcare industry for its protective properties.
The Amber prefillable syringes are filled with exact doses, which avoiding measuring errors. Ensuring such precision in a medical setting is invaluable and potentially life-saving. The prefilling syringes also limits further contamination risks with preloading liquid medicines.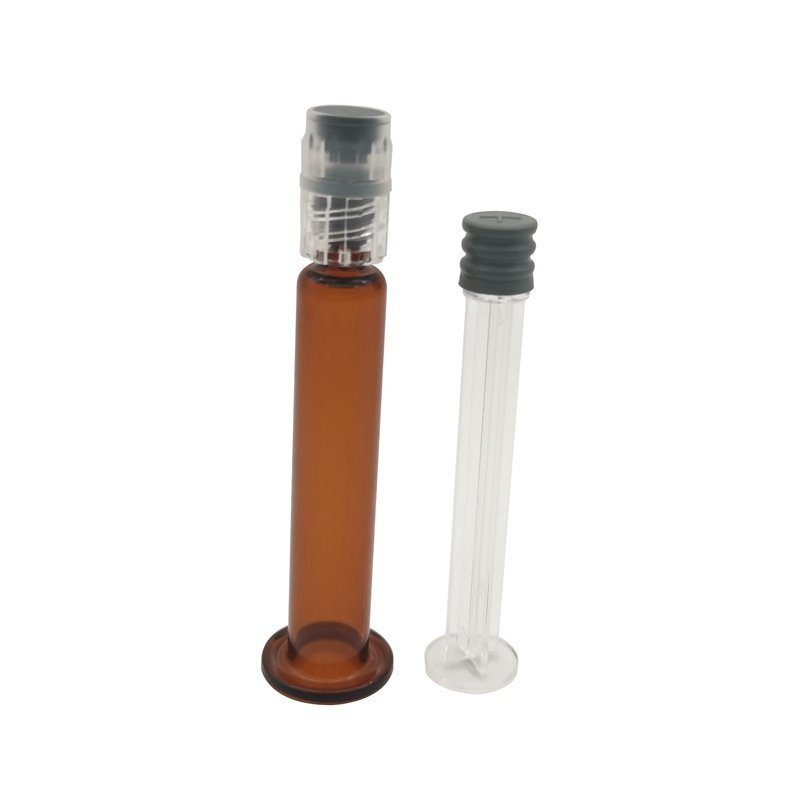 The application of amber prefilled syringe
Prefilled syringes offer an easy, convenient, and safe way of delivering medication. Given the natural qualities of borosilicate glass, no harmful chemicals can leach into the syringes.
Amber prefilled syringes are popular for light-sensitive drugs, Such as vaccines and certain chemotherapy drugs, as well as biopharmaceuticals and other pharmaceutical preparations like hormones, vitamins, enzymes, hormones, antibiotics and analgesics. Amber prefilled syringes helping to minimize degradation and maintain their therapeutic efficacy.
Where to buy amber prefilled glass syringes?
We are the leading manufacturer of high-quality prefilled glass syringes in China. Schott, Datwyler, and WEST are some of our associated partners. We don't produce borosilicate glass tubes but process tubing into prefillable syringes.
Small orders are available as low as 100pcs. You place the orders, and we will handle the rest. We provide DDP air & sea shipping door-to-door service to most countries worldwide. If you're interested in any sizes of the amber prefilled syringes, please let us know.